Interest rates are so low my wife and I had to bite... and refinance our home. We had done a re-fi a while back to get some money for a something we wanted to do and unfortunately it was while rates had risen a bit. Today the rates are very low and we had to take the opportunity to save some money - we saved about a percent and a half off of our old rate. A percent and a half doesn't sound like much, but in our case it's huge, we're talking hundreds of dollars a month - well worth the minimal effort and time it took to refinance.



If you have a relatively high interest rate on you home loan, it may be worth your while to make a couple of phone calls or at least go online and inquire at a couple of mortgage loan sites. They'll likely call you back quickly. What we found was it's worthwhile checking with a few places... your bank or credit union, a local mortgage company or two and perhaps an online mortgage place or two. We found that the rates they would give us varied, the ending APR they gave us varied, and the fees they charged varied quite a bit.



Keep in mind, you'll need to run the numbers before committing. Depending on your credit rating, the size of your loan, time left on it, rate on the original loan, what the fees will run on the refinancing, and a couple other factors, it may not be worthwhile refinancing... or it could save you a lot of money. You'll need to run the numbers, but if it works out in your favor you should consider it. In our case what we're saving will pay for all of our refinancing costs in about a half a year, the rest is bonus money we can put back into the house , paying off the loan earlier, investing towards retirement or just plain fun. It was well worth it for us.
For those of you who are considering taking out a home loan to purchase a home... Now is a great time compared to historical rates. There's a chance rates could go either way from here, but current rates are still very low, which could mean lower payments or more house for the same payment compared to earlier dates... in most cases it's a win.
Interest Rates Hover Near Historic All-Time Lows [INFOGRAPHIC]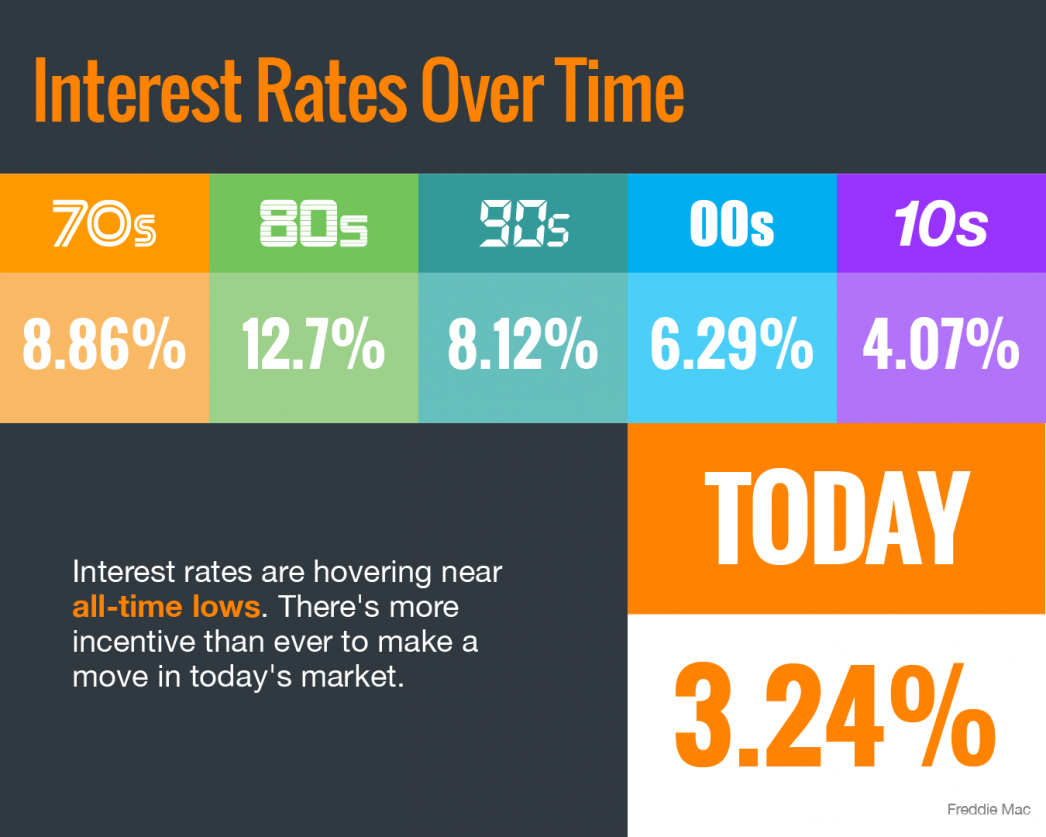 Some Highlights
Mortgage interest rates have dropped considerably this spring and are hovering at a historically low level.
Locking in at a low rate today could save you thousands of dollars over the lifetime of your home loan.
Let's connect to determine the best way to position yourself for a move in today's market.